When A "NO" Turns Into a "YES"
I recently had a conversation with one of my dear artist friends about rejection and how it can be particularly difficult to receive a "no thanks" letter during the harsh days of winter. The probability of being rejected this time of year when spirits are knocked low makes her not want to apply to opportunities, even ones that seem a good fit for her practice.
Hearing her say this broke my heart and prompted me to reflect on my own – quite long – history of rejection. I thought it would be timely to share some of the ideas that came up in our resulting conversation.
If you need a pep talk on why you might want to push through the pain of rejection, here it is.
Being rejected is awful.
I know all too well what it's like to receive "no" after "no" after "no".
It took 40+ proposal applications and two years before anyone gave me my first significant break in a duo show. At one point during this time I was getting a rejection letter almost every week.
In 2017 I applied to 24 opportunities. Out of those 24 ops I received 21 rejections. I was basically receiving two rejection letters a month. I won't lie, that much consistent "no thanks" made it difficult to keep putting my work out there. But I had to – and here's why.
Sometimes, just sometimes, a "no" leads to a "yes".
Here are a couple of real life examples:
Two of the solo-shows on my CV exist only because I reapplied to galleries that rejected me a few years prior.
I fine-tuned my writing skills, updated my images, and reapplied…with the exact same proposal concept. The second time around I was awarded coveted solo show slots, one at Latitude 53 in Edmonton, AB, the other at Galerie Connexion in Fredericton, NB (now known as Connexion ARC).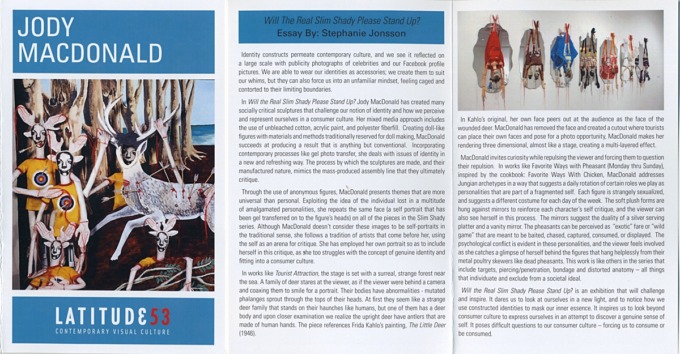 If I would have listened to my crushed ego and believed that my idea was flawed, or that my work wasn't good enough, I would have missed out on these seminal opportunities.
Keep in mind that a "no" can be temporary.
Sometimes rejection doesn't stick. Sometimes it rebounds as an affirmation.
In 2009 I submitted a proposal to Acadia University Art Gallery in Wolfville, NS to present my Will the Real Slim Shady Please Stand Up? series as a solo show. I was rejected. Three years later the gallery contacted me asking if the series would be available to show. The gallery had kept my proposal on file and had a last minute cancellation in their programming. I was able to make the timing work, and BOOM! another solo show in my exhibition history.
More recently, I sent a solo exhibit proposal to the Craddock-Terry Gallery's 2018 call for submissions in Lynchburg, VA. I was rejected. In December 2019 the assistant curator of the gallery reached out saying they had kept my application on file and were putting together a 10-artist group show focusing on small works. They thought my work would be perfect. In the new year I was notified that 12 works had been selected for a 5-week show.
So, you see, being rejected can have a silver lining.
Though it's a brutal gut-punch, you need to decide how you're going to handle being rejected. Are you going to let it beat you down, or are you going to rise up stronger?
"The effects of rejection can either kill your muse or change your life." – Jane Champagne
There have been several times when I could have let a rejection take me down. Instead of letting rejection prevent me from applying to opportunities, I chose to wrap my bruised ego up in a big cozy blanky and apply, reapply, apply, reapply.
After more than 30 years as a professional artist I view rejection as having given more people the opportunity to view my work and become aware of my practice. Maybe the jury, director, selection panel loved your work but the timing wasn't right. Maybe your concept and execution are a wee bit ahead of its time. Who knows what mysterious forces drive the selection process? Do your best not to take it personally and forge ahead.
If you let the fear of being rejected prevent you from applying, you've rejected yourself before even beginning.
Why do that to yourself? Don't self-sabotage. Fill out the application, submit it, and give others the opportunity to be introduced to your work. Leave it to the jury, gallery director, selection panel, etc., to tell you "no".
Because sometimes, just sometimes, it will lead to a "yes".